La evolución consiste en la creación de islas de orden cada vez mayores a costa de producir océanos de desorden más y más grandes.
Las empresas aeroespaciales, por ejemplo, emprenden intensas campañas para persuadir a los gobiernos de la necesidad de financiar la puesta en órbita de satélites del tamaño de la isla de Manhatan
La cantidad de recursos que hacen falta para producir un satélite gigantesco y lanzarlo al espacio donde se procede a su montaje, causa más desorden que cualquier valor que pueda proporcionar.
Estamos tan apegados, no obstante, a la presente visión del mundo que cualquier otra forma de organizar nuestros pensamientosse nos antoja absolutamente inaceptable.
Esta pequeña postal sonora, sumada a los miles de postales recibidas y emitidas en esta convocatoria vía satélite, contribuye decididamente a conferir sentido a este proyecto contenido en el proceso desorganizador del que todos formamos parte tan cínicamente.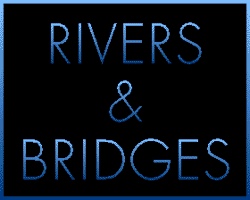 The main event of the RIVERS&BRIDGES project took place from September 1 to 7, 1996 in the context of the ARS ELECTRONICA FESTIVAL'96 with the main events taking place on September 5 … but RIVERS&BRIDGES will probably never really end … persisting as long as the rivers and bridges themselves.
It is intended that the communications infrastructure created during the project should continue afterwards as a platform for research, discussion and collaboration … as an open laboratory for new projects.
Such a project, "RECYCLING THE FUTURE" began in July 1997 with 10 days at "Hybrid Workspace" at Documenta X, Kassel.