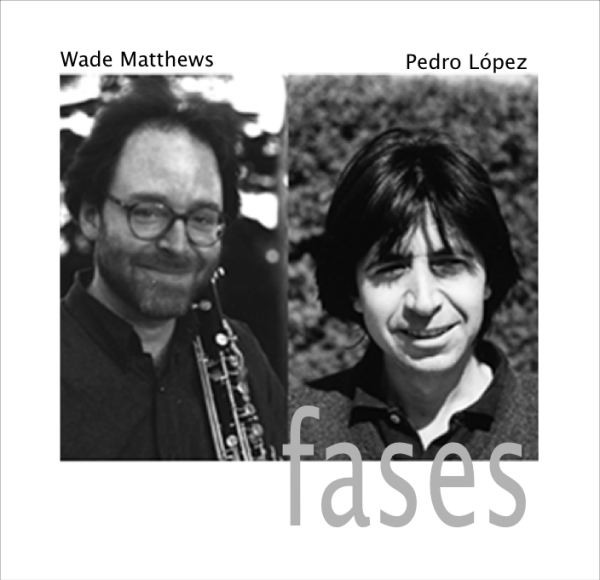 Two musicians,one from Madrid, the other from New York, use musical improvisation as a means of expression and exploration, Investigating and exploiting sound, electroacoustics, time and flow, seeking, and finding in precision, the elasticity and energy of a musical dialog.
Their tools are the bass clarinet, alto flute, saxophones, acoustic and electronic percussion, synthesizers, voice, magnetic tape… Their language is pulse, timbre, found sounds, instrumental excursions, silence, space and sonic dance.
Their habitat is Madrid, their workplaces, New York, Barcelona, Paris, London, Amsterdam… Fases has performed in numerous concert series and festivals, including Paralelo Madrid, where they also improvised in trio with British electroacoustic music pioneer Hugh Davies, the VII Festival Musi-Koken in Valladolid, the concerts of the London Musician's Collective in London, Ressò on the island of Mallorca, the Festival of XX Century Music in León, the International Festival of Electro-Acoustic Music – Puntos de Encuentro V in Valencia, and in trio with German double bassist Peter Kowald in Madrid, Huesca and Leon as part of the International Festival of Improvised Music – Hurta Cordel '96. They have also made on-site recordings at the BBC in London, the Atelier de Creation Radiophonique/France Culture in Paris and Radio Nacional de España in Madrid, Valencia, etc.
For Jackson P

El hombre Menguante

Sofronización

Peculiar altibajo
Espejo físico

FASES has also been involved in multi-media projects. In 1995 they created and performed El Canto Férreo (Iron Song) a work performed entirely on the iron sculptures of Jorge León, then showing at CRUCE: Arte y Pensamiento, in Madrid. They recently accompanied a series of masterpieces of German silent film at the Goethe Institute, including Berlin – Symphony of the Great City (Walter Ruttmann). At present, FASES is working with dancers from La Inesperada, the Spanish collective of improvised dance, as part of the International Festival of Improvised Music – Hurta Cordel '97 Wade Matthews (clarinete bajo, saxos, electrónica) Pedro López (percusión electrónica y acústica). Recorded live in Madrid (Festival Punto de Encuentro), Palma de Mallorca (Festival Ressó) & Valladolid (Festival Musikoken) 1997